Private dining is a unique opportunity to have Restaurant Møntergade for yourself. The perfect solution for both large and small groups of guests who want an intimate experience in beautiful surroundings. We help you tailor an experience that matches your needs.
IN THE HART OF COPENHAGEN
Are you looking for an unique opportunity to invite your guests to a great meal?
In central Copenhagen you will our beautiful restaurant and every night we open up for a unique experience with private dining.
We welcome all kinds of parties.
Our kitchen has its roots in the Danish and French gastronomic universe. Which allows us to put together a menu that matches your taste palette and needs. Also if you have specific requests for individual guests.
The price is of course dependent on the scope of the menu, drinks and how many people participate in the dinner.
Our special location makes it easy to assemble for a delicious meal.
Private Dining is a unique opportunity to create a cozy evening, spiced with a good gourmet meal and a nice glass of wine (or two).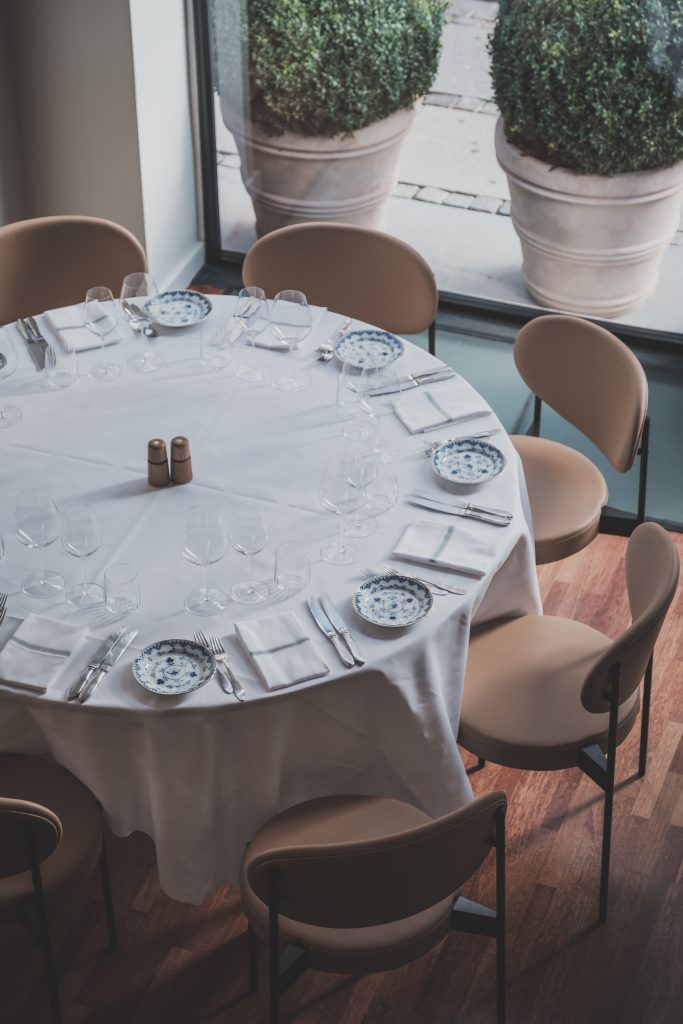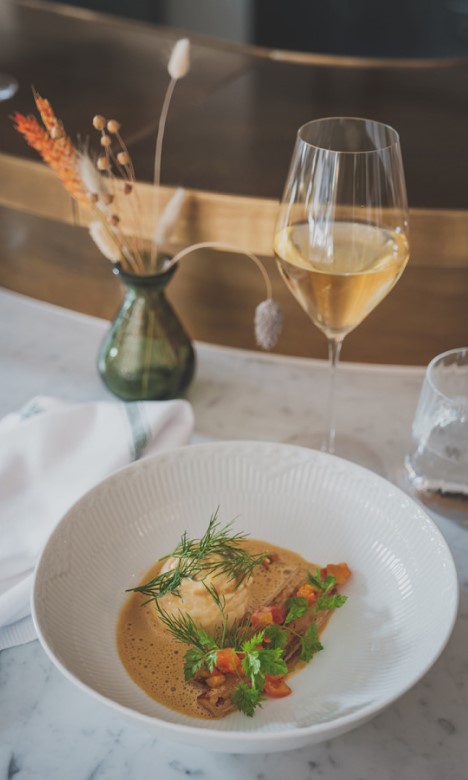 We offer a sophisticated Private Dining experience centered around great food and service.
In our kitchen, there are endless possibilities. We are passionate about our craft and never compromise on neither taste nor ingredients.
We always create the menu based on seasonal ingredients and our guests' taste buds. That is why we are ready with a tailor-made menu that meets your needs.
We host all kinds of gatherings, everything from the local wine club, a private party, a happy evening, a Christmas lunch, a party, a get-together, a reception, company events, or association, and much more.
We are not only praised for our food. We are also proud to present an impressive wine list, which we will be happy to share with you.
Our central location provides ample opportunity to continue the good atmosphere at the city's bars. Regardless of the company's size, we say thank you for tonight at midnight.

" Formidable food and service. Authentic, present and tasty."
4,7 Stars
(68 Google Reviews)
(…) I could eat this for the rest of my life. (…)
Joakim Grundahl, Food critic

"(…) The former Palægade team has got off to a good start at Møntergade with open sandwiches, which are not available anywhere else in the city. (…)"
Søren Frank, Food And Wine

(…) The former team from Palægade keeps the superb style at the new (old) address. (…)
Niels Lillelund
We love having guests and preferably many of them. We are ready to help you arrange a special day, whether it is a business or a private event.
Our knowledge and competencies enable us to create a menu that ensures a good atmosphere and smiles on everyone's faces.
We know that it takes a lot of thought and planning when it comes to stacking a large event on its feet. That is why we are ready with help and guidance, so you have more time for more important tasks.
We have several rooms available, which means that we have room for a large number of people. So if you need rooms that can accommodate a large number of people, we have the space. Whatever constellation you need.
We can host:
events for lunch,
events for evening and
all-day events.

Contact us and let us find out together how we can help you.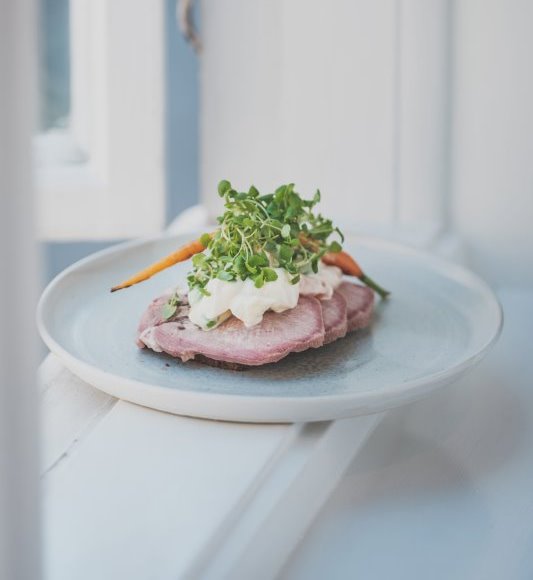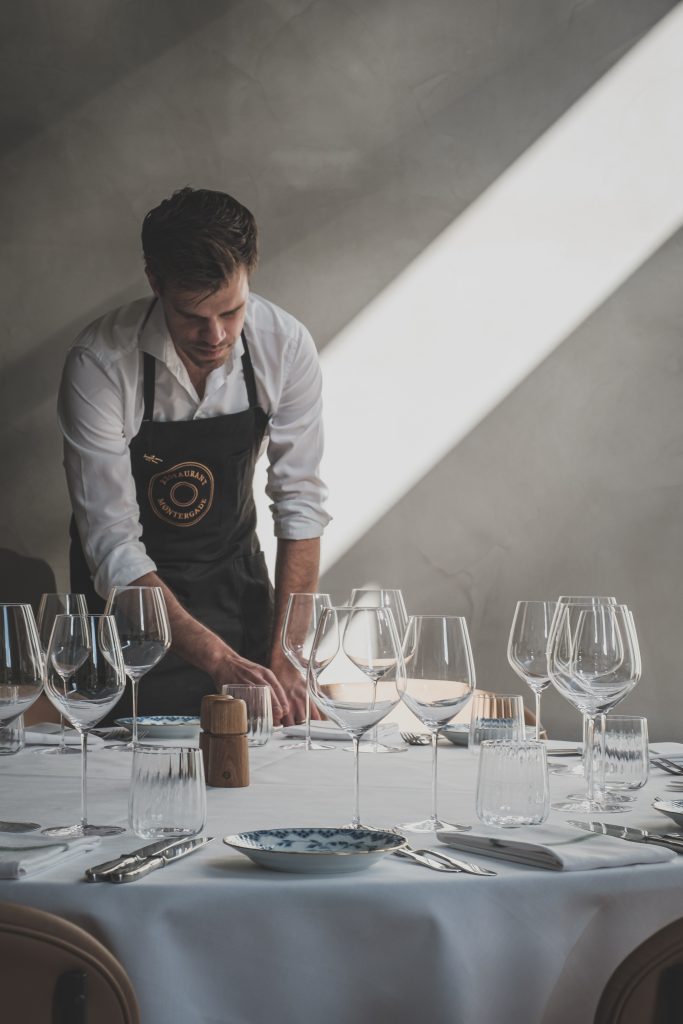 In the heart of the inner city you will find our historic locations. Fate wanted the open faced sandwich restaurant to be spread over two locations, each on its own street corner.
Which allows us to offer an extraordinary restaurant experience, for both small and large companies, and groups and individuals.
At Restaurant Møntergade, we strive to offer every single guest the good restaurant experience. We therefore strive for the food and the external setting to compliment each other.
At the same time, it has become possible to offer dinner, with dishes that take their inspiration from Danish and French cuisine.
In the red house on Gammel Mønt 41, you will find our function rooms filled with old Danish authenticity. This is where we welcome all kinds of larger gatherings. But wait there is more.
Opposite, on Møntergade 19, you will find our critically acclaimed a la carte restaurant.
Here we are ready to serve both lunch and dinner.
We are proud of both houses and that they make it possible to offer a versatile experience.
We look forward to welcoming you.
Simon, Karina & Rasmus