A MODERN BRASSERIE
WITH RESPECT FOR TRADITION

" Formidable food and service. Authentic, present and tasty."
4,7 Stars
(68 Google Reviews)
(…) I could eat this for the rest of my life. (…)
Joakim Grundahl, Food critic

"(…) The former Palægade team has got off to a good start at Møntergade with open sandwiches, which are not available anywhere else in the city. (…)"
Søren Frank, Food And Wine

(…) The former team from Palægade keeps the superb style at the new (old) address. (…)
Niels Lillelund
IN THE HART OF COPENHAGEN
Every night the restaurant is turned into a brasserie. In the brasserie, we serve dishes that are made from the best ingredients of the season, which comes directly from the Danish and French nature.
The menu is rooted in traditional French and Danish cuisine, interpreted in a modern context.
We love food, and we have of course made it easy for you to put together your personal dinner and enjoy a wide range of taste.
The evening is dedicated to our guests and we give all our guests the opportunity to enjoy the food and wine, without having to worry about time – therefore we have no fixed seating time.
And there is also room to be spontaneous. That is a must. In our dining bar you can come in from the street and enjoy a delicious meal.
We recommend that you end your evening with a delicious dessert or one of our delicious cheeses, which you can choose from our cheese cart.
We look forward to welcoming you in our brasserie, which you will find on Møntergade 19 in inner city Copenhagen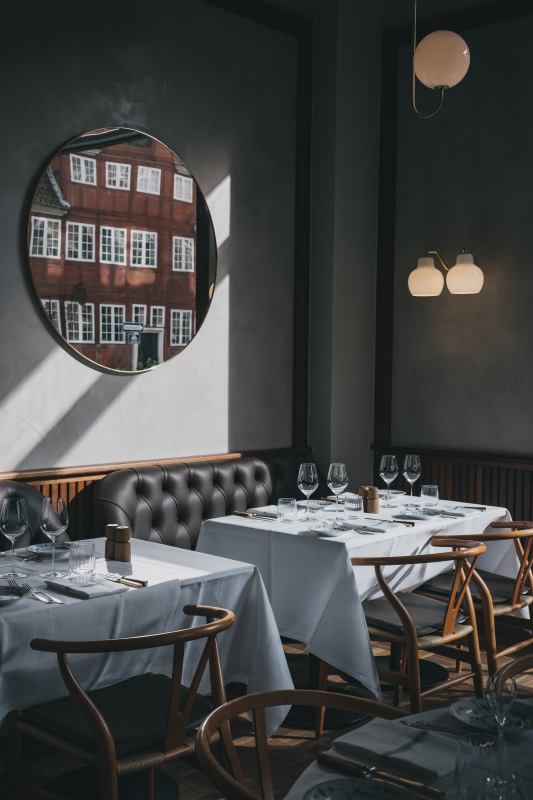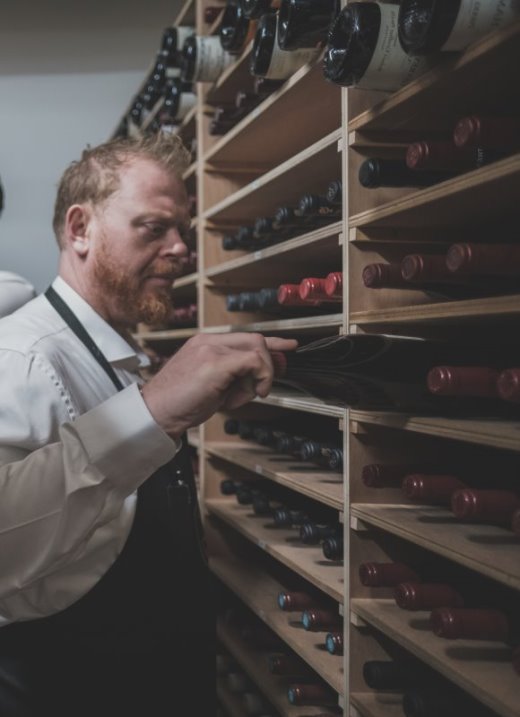 At Restaurant Møntergade we love food. Created from the best ingredients, made into exquisite dishes by our passionate chefs, served by our skilled staff, who are passionate about good craftsmanship.
However, we are at least as passionate about the meal's eternal companion – namely what you get served in the glass.
Granted, we are actually incredibly fond of wine. The wine list is therefore an achievement of which we are immensely proud. In the brasserie's wine list you will find a wide selection of tasty wines from near and far.
In the brasserie's wine list you will find a wide selection of tasty wines from near and far.
Our wine list is 38 pages long, and already here it's hard not to be a little overwhelmed.
You do not have to be a wine connoisseur to enjoy the brasserie, because we have done the hard work for you.
Our staff is ready to help you with the best wine, and ready to talk about what you want to get out of tonight's choice of wine.
We make an effort to select wines that impress both on taste, but also in different price ranges
Whatever you want to celebrate, you will of course also find a wide selection of bubbles and champagne.
In Copenhagen you will find many fine buildings, located on many of the city's street corners. But where Gammel Mønt and Møntergade meet, there is a special house.
It is a beautiful classic red half-timbered house, which is known by neighbors and gastronomic connoisseurs. Restaurants have been here for more than 100 years.
The adventure started in the small red half-timbered house, where the menu was exclusively for lunch. However, it soon became clear that our guests continue to appreciate the good restaurant experience.
When the occasion arose, we expanded and took over yet another historic location, on the opposite side of the street. Which meant that we can now welcome our guests on two addresses.
Here we serve exquisite dishes created in classic Danish / French cuisine every single day after 18.00 but until 23.00.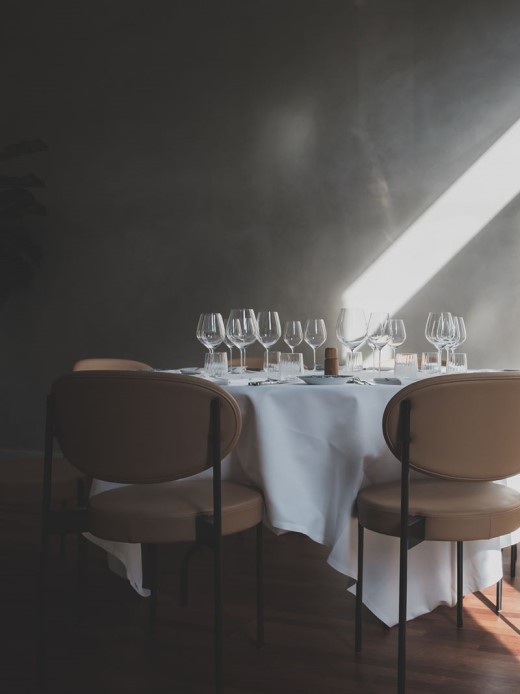 We love having guests and preferably many of them.
We also love helping arrange that special day for a loved one. And if you want to invite coworker or business associates we can help make that lunch/dinner a succes.
Our menu and competencies offer many options in relation to putting together a menu that suits your wishes and needs. So you get the best experience possible.
We have several dining rooms available. It means that we have space for a large number of people, and can tailor the constellation that you need.